Race Information
For the tenth year running—literally, SAS Championship 5K powered by Camp Gladiator will lead runners, families and golf fans through a course unlike any other. Enjoy the unique experience of running, jogging or walking along the official tournament course prior to the second round of play, it's a perfect way to connect with friends and family or shoot for a new personal record in the competitive divisions. Running tech shirts included with race registration.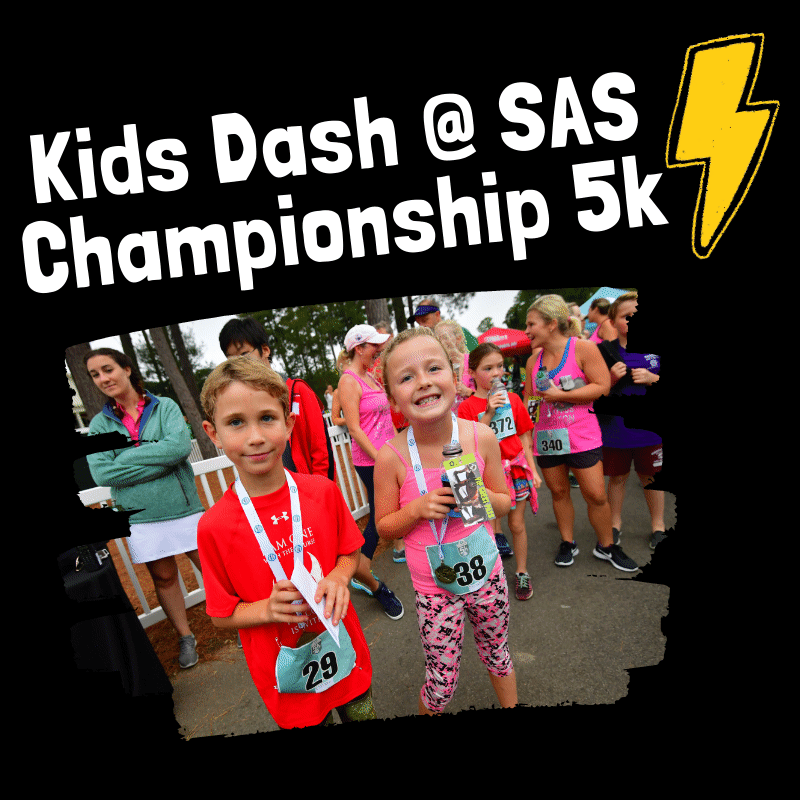 Something new that we are proud to announce this year is our KIDS DASH AT THE CHAMPIONSHIP! This event will take place prior to the 5K for any child under eight years old. We will have a 100-meter Toddler Trot for the kids between the ages of 1-4 starting at 7:45 AM, and a 1/2 mile for the kids between 5-8 years of age at 7:30 AM. It's a perfect way to have the youth participate in a family fun fitness event. This is a free event and we do ask that parents fill out a waiver for their child prior to the event. Please head on over to the registration page to sign-up today. Kid-friendly snacks and race ribbons are included for the kids who participate.

Race Registration/Packet Pick-Up Schedule
Thursday, October 10: 4:00 p.m.- 8:00 p.m. outside of the Tennis Center at Prestonwood Country Club
Saturday, October 12: 7:00 a.m. - 7:45 a.m. outside of the Tennis Center at Prestonwood Country Club

PLEASE NOTE PARKING FOR 2019: There will be free parking for 5K participants at St. Michael Catholic Church on High House Road (Across the street from Bond Park). After the race, St. Michael kindly asks that all cars clear the parking lot by 10 a.m.
RACE AMENITIES INCLUDE: Admission to the SAS Championship, running tech shirt, post-race food and access to the WakeMed Health Zone.

T-Shirt Design Click Here
Pricing:
Registration Type

Dates

Now - October 6th

October 7th - October 13th

Adult

$30

$35

Youth

$20

$25

Family 4-Pack

$70

$75

Instructions for how to register for the Family 4-Pack Online:
1) The paying parent/guardian must select registration type "Family 4-Pack (Buyer or Captain)"
2) On the registration form, you will be prompted to create a team name and team password
3) Once buyer/captain registration is complete and has been paid for, you may begin registering your 3 other family members
4) To register your remaining family members-- go back to the registration home page and start a new registration
5) select registration type "Family 4-Pack additional members"
6) You will be prompted to select the team name and type the chosen team password
7) When you finish registration for an additional member, you will not be prompted for payment
8) You must register each family member individually Team Max is 4

Mail In Paper Form - Individual Here

Mail In Paper Form - Family 4 Pack Here

Mail in Paper Form - Kids Dash Here

Event Website, Registration and Management Powered by RaceReach