2019 Cheetahfest Photos in Dropbox - Thank you Dennis Severt for all this hard work

The Cheetahfest Tour de Cure Training Ride and Halloween Celebration is back for 2019!!! And we have a mission to raise money for a cure for diabetes. This is a fully supported ride featuring two beautiful, rural route options on Saturday, catered dinner, and a band party. Costumes are not required, but are encouraged for both the Saturday ride and after ride festivities!
All proceeds go to supporting the American Diabetes Association.
Please remember to bring a chair.
Event Detail PDF link

Event Details:
Bike ride, costume contest, dinner and a dance party.
The Lids, Covering Classic Rock
, are back to play for 2019 to get you in the mood for Halloween! Get ready for a fun evening of live music, dancing, and optional overnight camping (showers and restrooms are available at Camp Riverlea). We are also planning an informal, unsupported recovery ride on Sunday morning.
BYOB, please note
, you are welcome to bring your own beverages to camp.
Please do not drink and drive.
The event will not be providing beer or wine after the ride or during dinner. There will be an after-dinner craft beer tasting hosted by John Huis, which is primarily intended for those camping overnight. If you'd like to participate in the tasting without camping, please have a designated driver.
What to bring:
Bike, helmet, costume, change of clothes, lawn chair, beverages, flashlight(remember summer camp?).
If camping overnight, remember your camping supplies and your own breakfast.
Please help the event planners by registering by Wednesday October 23 for our caterer's dinner count. All registrations go through this website, including day-of registrations.
Questions? Email
info@cheetahfest.org
.
---
Photos from 2017 Cheetahfest are available on
Dropbox
(
link
). Enjoy!!!!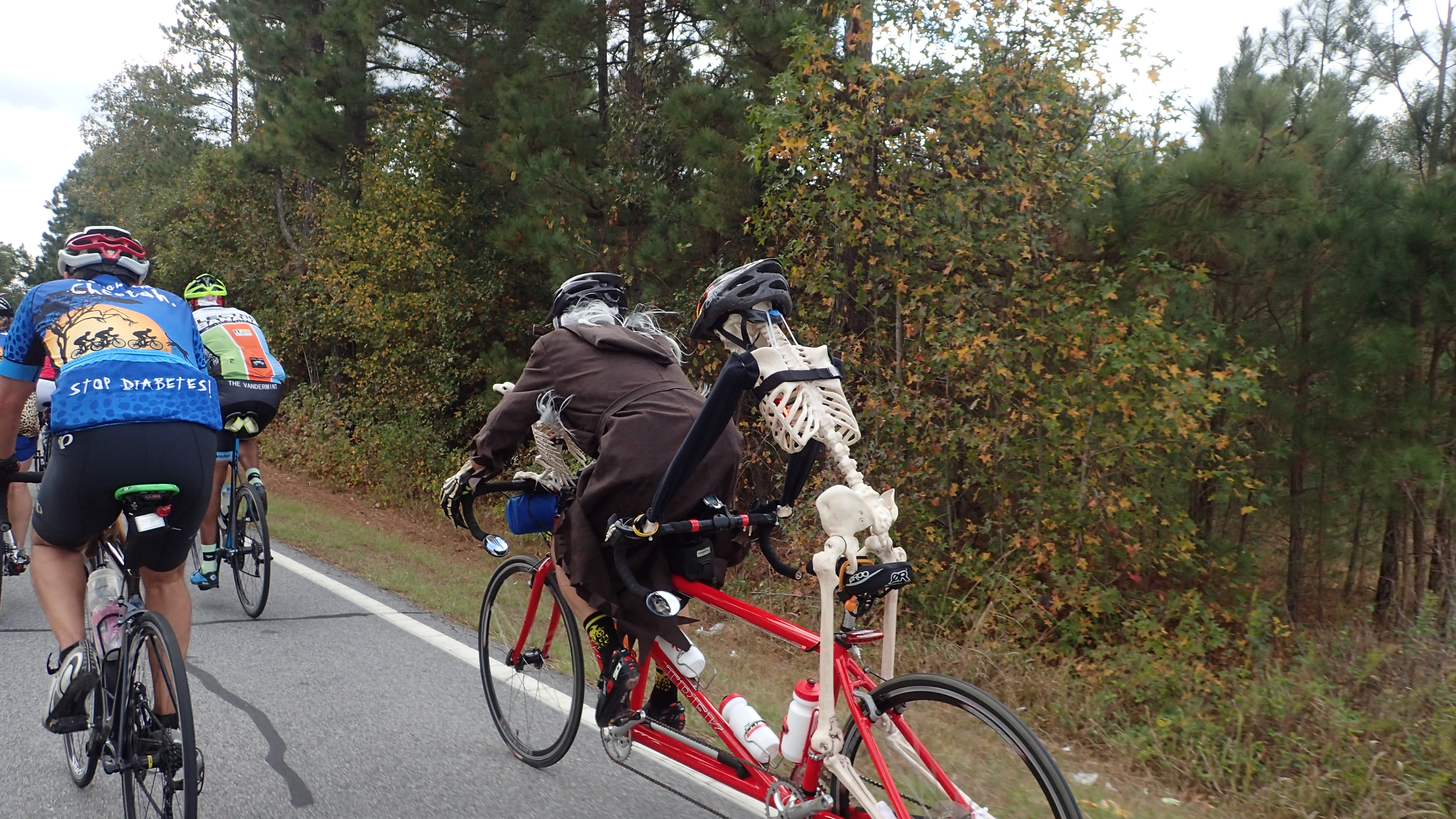 ---
Raising Money for Diabetes Research
Since 1952, the American Diabetes Associat
ion's investme
nt o
f
nearly $770 million in more than 4,600 diabetes research projects has contributed significantly to advances in diabetes care and reductions in diabetes complications, allowing people with diabetes to live longer, healthier lives. With generous contributions from philanthropic supporters, the American Diabetes Association will continue to support critical diabetes research, accelerating progress toward prevention, better treatments, better care, and ultimate cures.
Read about the ADA's investments in Diabetes Research Projects.
---
Local Research funded from the ADA.
For info on how this research money is used locally, please check this link about Dr. White from Duke University as well as Dr. Zhen Gu from North Carolina State University who both received a
Pathways Grant from the ADA
.
---
Follow the money
RaceReach:
Our event registration and credit card processing is handled by RaceReach. Your credit card will say "RaceReach" for event registration fees and donations.
American Diabetes Association:
The ADA is Cheetahfest's 2019 designated recipient for proceeds beyond expenses at the 2019 Cheetahfest event. Cheetahfest is completely run by volunteers, with no paid staff, seeking to minimize expenses and maximize the donation to the ADA.
---
The roots for Cheetahfest began in 2015 when Team Cheetah decided to have a fun Halloween ride with friends. In 2016, word got out of a fun Halloween ride with more and more people wanting to join the fun. The event started taking on a festival atmosphere with the addition of a band party and overnight camping. In 2017 Cheetahfest grew into a fully supported two day ride with a dinner and dance party. We lost our rural farm venue in 2018. Now the Cheetahfest Halloween ride is back in 2019 with a new venue.