35th Annual Thad & Alice Eure Walk for Hope
Walk & Festival
The Angus Barn • Raleigh, NC
Sunday, October 8, 2023
Walk for Hope: 10:00 a.m. • Run: 9:00 a.m.• Festival: 11:00 a.m.

In the 34 years since it began, our flagship charity event has helped raise millions of dollars towards better understanding and treatments of illnesses like depression, bipolar disorder, PTSD, postpartum depression, schizophrenia, and anorexia.

Each year, thousands of participants come together at the Angus Barn in Raleigh to walk a 5K route to show solidarity for family, friends, and community members living with a mental illness. After the walk is over, we celebrate our achievement with a family-friendly afternoon of food, games, music, and prizes. Can't make it in person this year? Join us VIRTUALLY instead or simply make a DONATION! We're beefing up our virtual option so you can create your own Experience of Hope.

100% of the money raised by participants directly funds local mental illness research at the UNC-Chapel Hill Department of Psychiatry. And, as critically, it helps call attention to the stigma and significance of these often invisible illnesses, which now due to the pandemic affect as many as 1 in 3 American adults.

Every step gives us hope, and hope keeps us moving forward. In 2023, we're bringing the Walk back bigger and better than before. Walk with us.


Event Day Pricing: Walk and Festival
The Walk for Hope is more than a community event - it's a huge fundraiser for the research and treatment of mental illnesses. Whether you're participating in-person or virtually, all pricing is the same! Walk, then stay on the Angus Barn property to enjoy the festivities! All participants will receive a wristband for admission to the Walk for Hope and to the festival.

Children 5 and under are free.
---
Walk for Hope
Route
The Walk for Hope is a fun 5K (3.1 miles) route that begins at the Angus Barn on Hwy 70, goes up Glenwood Ave into Umstead Park, turns around at the Umstead Visitor Center, and returns to the Angus Barn. If you have small children or just aren't feeling a full 5K, we've also got a lovely 1-mile family fun natue hike around the Angus Barn Lake!
Click here to view a map of the 5K route.
Join thousands of members of our community to raise awareness and desperately needed funds for mental illness research.
Run
Want to run? You can do an
untimed, unofficial
run of the 5K route at 9:00am! Crush those miles, then join your team and cool down on the Walk!
Walk for Hope Start Times

Registration: Opens at 7:30 a.m.
Untimed Run: Pushes off at 9:00 a.m.
Walk: Steps off at 10 a.m.
---
Festival
All day long, we're hosting a family-friendly festival with music, games, face-painting, balloon art, ice cream, funnel cake, a juggler, pony rides, beer, and more! The festival starts at 11:00 a.m., but we encourage you to come early - you'll get breakfast, dance along with MIX 101.5 to get warmed up, and cheer on the Walk as it kicks off! Then enjoy all the activities, a delicious lunch from the Angus Barn, and celebrate with our top fundraisers as they win incredible prizes. one you're registered and onsite, everything is COMPLIMENTARY!

And the best part is: you don't have to do the 5K Walk to participate. Come out any time to enjoy the day!
---
Virtual Option
If you can't attend the Walk for Hope, or would prefer to support us from afar, we'd love to have you join us VIRTUALLY on October 9! You get to pick the details of your virtual experience: what time, where, and how far you go. Our virtual participants still have a HUGE impact on fundraising and make an incredible difference!

Registration for the VIRTUAL Option includes a t-shirt and armband, and your registration fee can be fundraised! Participants are welcome to pick up their t-shirts at the Early Check-In Days or we will be happy to mail them to you after the Walk for Hope event.
---
Early Check-In Days

Beat the crowd and save time! Prior to Event Day, participants can register, turn in collection envelopes, and pick up T-shirts and armbands at the Angus Barn.

We STRONGLY encourage all participants – IN-PERSON and VIRTUAL - to pre-register and attend Early Check-In days.
Thursday, October 5: 12 p.m. - 6 p.m.

Friday, October 6: 10 a.m. - 6 p.m.

Saturday October 7: 10 a.m. - 6 p.m.
---
Same-Day Registration

Walk for Hope registration opens at 7:30 a.m. The Walk for Hope begins at 10 a.m., and the unofficial, untimed Run pushes off at 9:00 a.m.
To encourage early registration and check-in, ALL Event Day prices increase by $5.
---
Fundraising - Go above and beyond!

The Walk for Hope is more than just a community walk - it's a huge fundraiser that directly supports the research and treatment of mental illness. Most of our Walkers raise the money they need to participate; the average participant in the Walk for Hope raises a minimum of $150. Help us make this 35th year our biggest fundraising effort ever!


All registration fees are final and 100% will be included in your total fundraising contribution to our critical mission of funding mental illness research.
Event Day Details
Event Day Details & FAQ
What time should I arrive?

Onsite registration and check-in opens at 7:30 a.m. for the Walk for Hope, which begins at 10:00 a.m. sharp. The unofficial, untimed Run pushes off at 9:00am if runners want to run the route before cooling down with their team on the Walk. The Festival officially starts at 11:00 a.m., but arrive anytime to enjoy a light breakfast and visit with onsite vendors. All pre-registered participants who have their t-shirt and armband can proceed quickly through the entrance checkpoint. Participants needing to register onsite, turn in money, and/or pick up their t-shirt and wristband will be directed to the onsite registration area. Staff and volunteers will be available to assist you!

Where should I park?
Parking is available just minutes away from the Angus Barn at RDU Park & Ride Lot 5 off Commerce Blvd and 8051 Arco Corporate Drive, near the exit of Lumley Road and I-540. Follow the Walk parking signs and guides! FREE Walk shuttles to and from the Angus Barn will be available 7:30 a.m. to 3 p.m. There are no drop-offs at the Angus Barn, but new this year we have a designated lot for drop-offs and pick-ups, including rideshares like Uber or Lyft!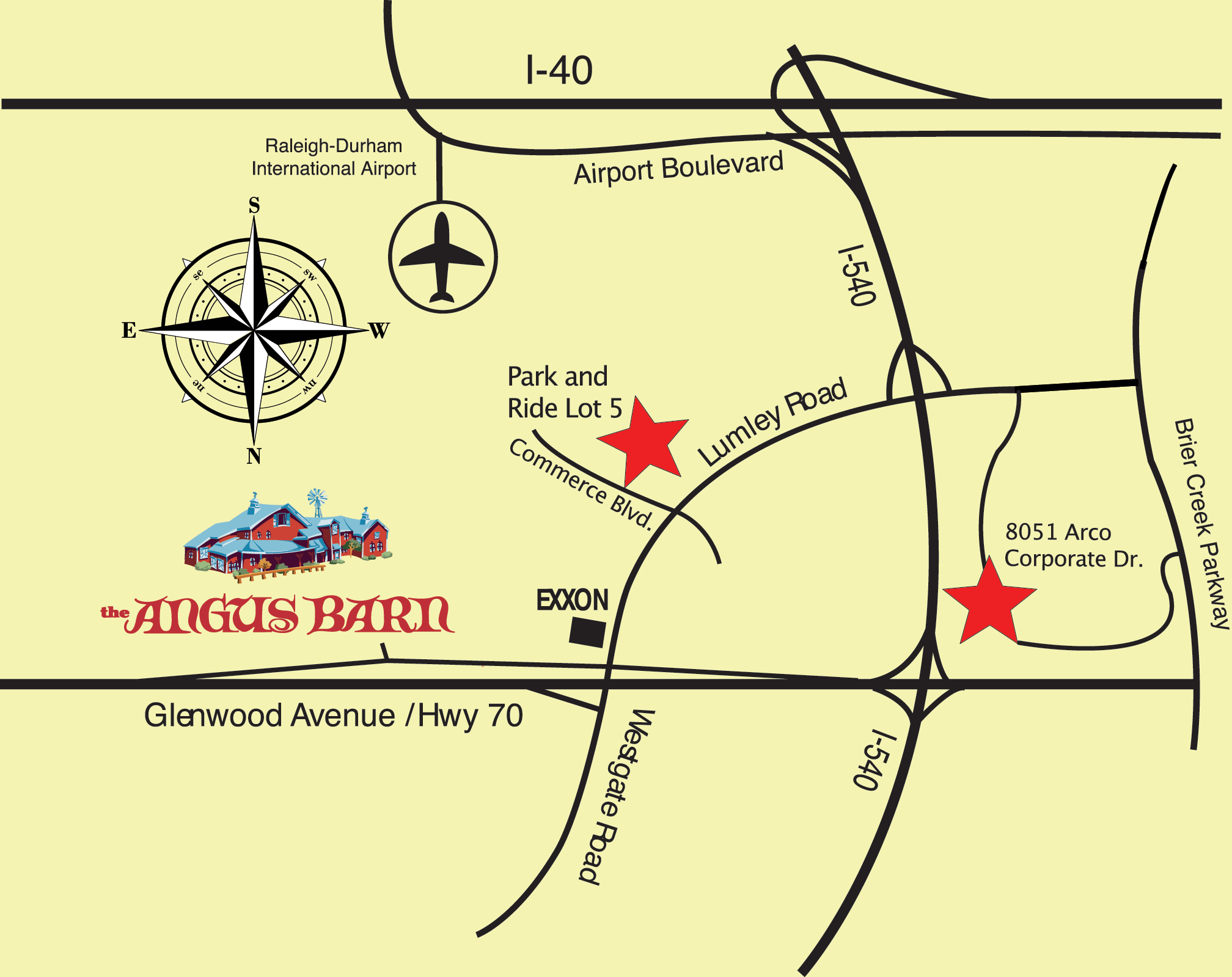 What is there to eat?
Breakfast items will be provided before the Walk. All registered participants are welcome to join the Festival at the Angus Barn starting at 11:00 am, with kids' activities, great food, music and more.
Can I bring my dog?
No. Pets are not allowed at this event (with the exception of certified assistance animals). Please leave your pets at home.
Are there rest stops and bathrooms?
Rest stops with water and snacks are available along the route, and port-a-potties are located throughout the festival area onsite at the Angus Barn property. There are also Hopemobiles available along the route for anyone who needs a ride.
Can I walk with a stroller?
Yes absolutely! If you bring a child, please remember to bring a stroller, infant carrier, baby jogger or wagon.
Can I run?
We love our runners! While we can't offer a timed, official Race for Steak this year, runners are welcome to take off at 9:00am for an unofficial and untimed chance to run the 5K route. Then you can meet up with your team and cool off on the Walk!
What happens if there is bad weather?
The Walk for Hope takes off in rain or sunshine. In the event of severe weather, we will post updates on our website and social media accounts. There are no refunds of the registration fee.
How do I win prizes?
All registered participants receive a T-shirt and are invited to join our post-Walk celebration with kids' activities, food, music and more! Those attending the Walk for Hope in-person will be entered into our on-site raffle for dozens of great prizes! VIRTUAL participants will be entered into a separate drawing for a $100 Angus Barn gift card. The top 10 overall fundraisers and the top 3 overall teams receive special prizes and recognition. Drawings for raffle prizes will be held on Monday, October 9.
What happens to my registration fee if I can't attend?
If you need to change your registration type from in-person to virtual, we can help with that! Just give us a call at 919-781-WALK or email walkforhope@walkforhope.com and we will be happy to assist you. There are no refunds of the registration fee. All registration fees are final and 100% will be included in your total fundraising contribution to our critical mission of funding mental illness research.
---
Health & Safety
The health, safety, and well-being of our staff, volunteers, and participants is of the utmost importance to us.
As plans for the Walk for Hope evolve, if needed, we'll post our health and safety processes here!
If you are not comfortable joining us in-person at the Walk for Hope this year, please consider participating VIRTUALLY or making a DONATION!