Donate On Behalf Of An Individual Or Team
Taylor's Wine Shop
About Taylor's Wine Shop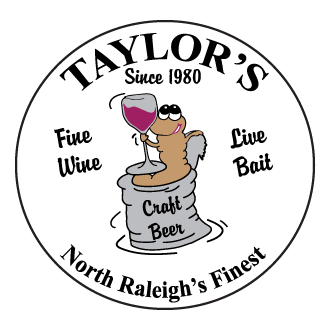 Taylor's Wine Shop is proud to participate in the 2022 Walk for Hope! We
believe it is important to give back to our community and help raise
awareness and funds for the research and treatment of mental illness.
Taylor's Wine Shop is a locally owned and family operated convenience
store, BP gas station, and fine wine shop in North Raleigh that was
established in 1980. Taylor Cash is the owner of Taylor's and also serves
on the board for the Foundation of Hope. Together we can make a difference.
Why am I fundraising?
I'm proud to be a captain for Taylor's Wine Shop for the 2022 walk for hope. Raising money for mental illness research is a passion of mine and my team.
The mental illness research occurs right here in the triangle so the money gets directly into the hands of the researcher.
100% of the money we raise goes to research. Please join my family and Taylor's in our fundraising effort for this underserved cause.
Donation Form
Closed
This form is not currently taking NEW orders
$9,582 of $5,000 goal
Raised by Taylor's Wine Shop
---
$7,272 of $5,000 goal
Raised by Geoffrey Gershaw
Donate Now
Or, click here to register and start raising money yourself.
Contributors to
Geoffrey Gershaw
Edline Ambroise
Anonymous
bonnie Arciniegas
cristina arkin
Bill Beam
dan binstock
Teresa Black
Barbara Bosonac
Brandon Brown
amy cagle
Kelly Clay
Jennifer Clayton
Jennifer Clayton
Alex Corenthal
Lisa Espina
jessica fass Yoga Inspired
emily frazier
Cassandra Generelli
Cassandra Generelli
Betsy Gershaw
Betsy Gershaw
Geoffrey Gershaw
Robin Gershaw
Betsy Gershaw
Geoffrey gershaw
Carol Gershaw Myers
Lee Goldstein
Dennis and Leisa Guvetis
Steven Hahn
margaret hall
Stacey Horowitz
chris & Melissa House
Theresa Kline
jason lamanna
Kristen Lee
Samantha Linsky
amanda Manning
Ellina Max
Janet McKee
Kathy McKeon
carol myers
Jamie Netherland
Jennifer pueschner
Jennifer pueschner
Jennifer Pueschner
THE u2b55ufe0fNE Real Estate Group
Toni Redman
Susan Reinhard
lori rex
linda robins
Linda Sanders
Laura Sanders
Jacqueline Sanders
Samantha Schettino-Linsky
Tina Schultz
Dina Silverman
alice slobodnyak
Matoka Snuggs
Michael soloway
Jessica stepanski
jennifer Sturm
Michelle Tayrose
Karine Trattner
Brynn VanSchaick
Rosemany Varallo-Panaia
Joanne Ward
donna webster
Bailey Williams
Members of
Taylor's Wine Shop
Contributors to
Taylor's Wine Shop
Kurt Alcorn
Kurt Alcorn
Edline Ambroise
Anonymous
bonnie Arciniegas
cristina arkin
Bill Beam
dan binstock
Teresa Black
Barbara Bosonac
Brandon Brown
amy cagle
Kelly Clay
Jennifer Clayton
Jennifer Clayton
Alex Corenthal
Lisa Espina
jessica fass Yoga Inspired
emily frazier
Cassandra Generelli
Cassandra Generelli
Betsy Gershaw
Betsy Gershaw
Geoffrey gershaw
Betsy Gershaw
Robin Gershaw
Carol Gershaw Myers
Lee Goldstein
Dennis and Leisa Guvetis
Steven Hahn
margaret hall
charles hassinger
Stacey Horowitz
chris & Melissa House
Theresa Kline
jason lamanna
Kristen Lee
Samantha Linsky
amanda Manning
Ellina Max
Janet McKee
Kathy McKeon
carol myers
Jamie Netherland
Jennifer Pueschner
Jennifer pueschner
Jennifer pueschner
THE u2b55ufe0fNE Real Estate Group
Toni Redman
Susan Reinhard
lori rex
linda robins
Jacqueline Sanders
Laura Sanders
Linda Sanders
Samantha Schettino-Linsky
Tina Schultz
Heather Shinpaugh
Dina Silverman
alice slobodnyak
Matoka Snuggs
Michael soloway
Jessica stepanski
jennifer Sturm
Michelle Tayrose
Karine Trattner
Brynn VanSchaick
Rosemany Varallo-Panaia
Joanne Ward
donna webster
Bailey Williams