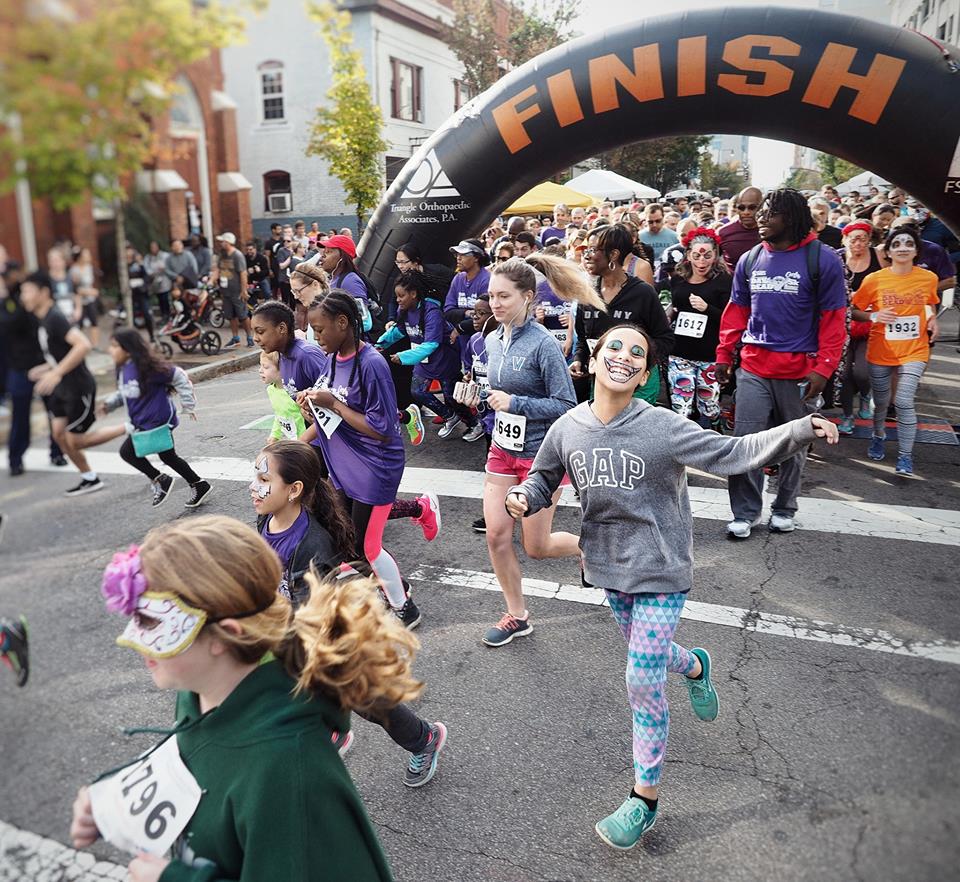 Welcome to the 11th annual Day of the Dead 5k happening Saturday, October 28th, 2023
The Day of the Dead 5k was originally created as an opportunity to do something fun while capturing an audience to educate about the Day of the Dead holiday. The idea of gathering on a fall Saturday morning, painting our faces and going for a run while supporting the good folks of the Boys & Girls Club seemed like a pretty good one.
While the event is mainly a 5k, there are several other events and displays like the 2 traditional altars, that give people an opportunity to learn and participate in the Celebration of the Day of Dead.
Over these past eleven years the 5k has strengthen the community by collaborating with people from around town, it has also provided hundreds of children from the Boys & Girls Club an opportunity to train and participate in the run and most importantly the event has raised over $175K in donations to the Brentwood Boys & Girls Club.
The altar at the Cemetery has grown year after year and the Oakwood Cemetery is a proud sponsor of it.

This year we will rolling a new Dia de Oakwood Celebration. Stay TUNED!!
Also, the Boys & Girls Club is officially taking over the race. Centro will continue to support all their efforts to ensure this event is a sucess. As always we have a goal to sponsor more than 100 kids from the Club to run the race through the "Sponsor a little runner" program where $35 dollars can contribute to pay a member's entry fee.

The race will start at 10:00am in front of Centro Mexican Restaurant and as usual the course goes through Oakwood Cemetery and loops back to Wilmington St.
We will have one altar during the event on Wilmington Street where people will be able to do offerings of flowers and written messages in memory of their loved ones that have passed away. There will be an art corner for the kids sponsored by Artspace, face painting by Paint Savvy, the best prices from local businesses, for top runners and best costumes, the very popular dance-off costume with the help of our awesome DJ. As if all this wasn't enough, we have partnered with the magnificent guys from Trophy Beer, and they are brewing a very special beer for all the runners who are 21 years old.
REGISTER NOW,
share with your friends, dress up and join us for an amazing fun time.

Sincerely, Angela.

Packet Pick
Thursday 10/26
3:00pm -8:00pm
Location:
Runnologie
1614 Automotive Way, Raleigh, NC 27604
919-664-8865
Friday 10/27
12:00pm -6:00pm
Location:
The Club Teen Center
721 N Raleigh Boulevard, raleigh NC 27604
(919) 250-3595
Race Day - Saturday 10/28 - NO PACKET PICK UP ON RACE DAY
Race Starts at 10:00am
Kids dash at 11:00am
Costume and Dance contest 11:10am
Awards Ceremony 11:30am
Centro will be open with food and drinks for all after the race.

Contact Information
Boys & Girls Club
919-834-6282
Race Route