Donate On Behalf Of An Individual Or Team
Team Jon
About Team Jon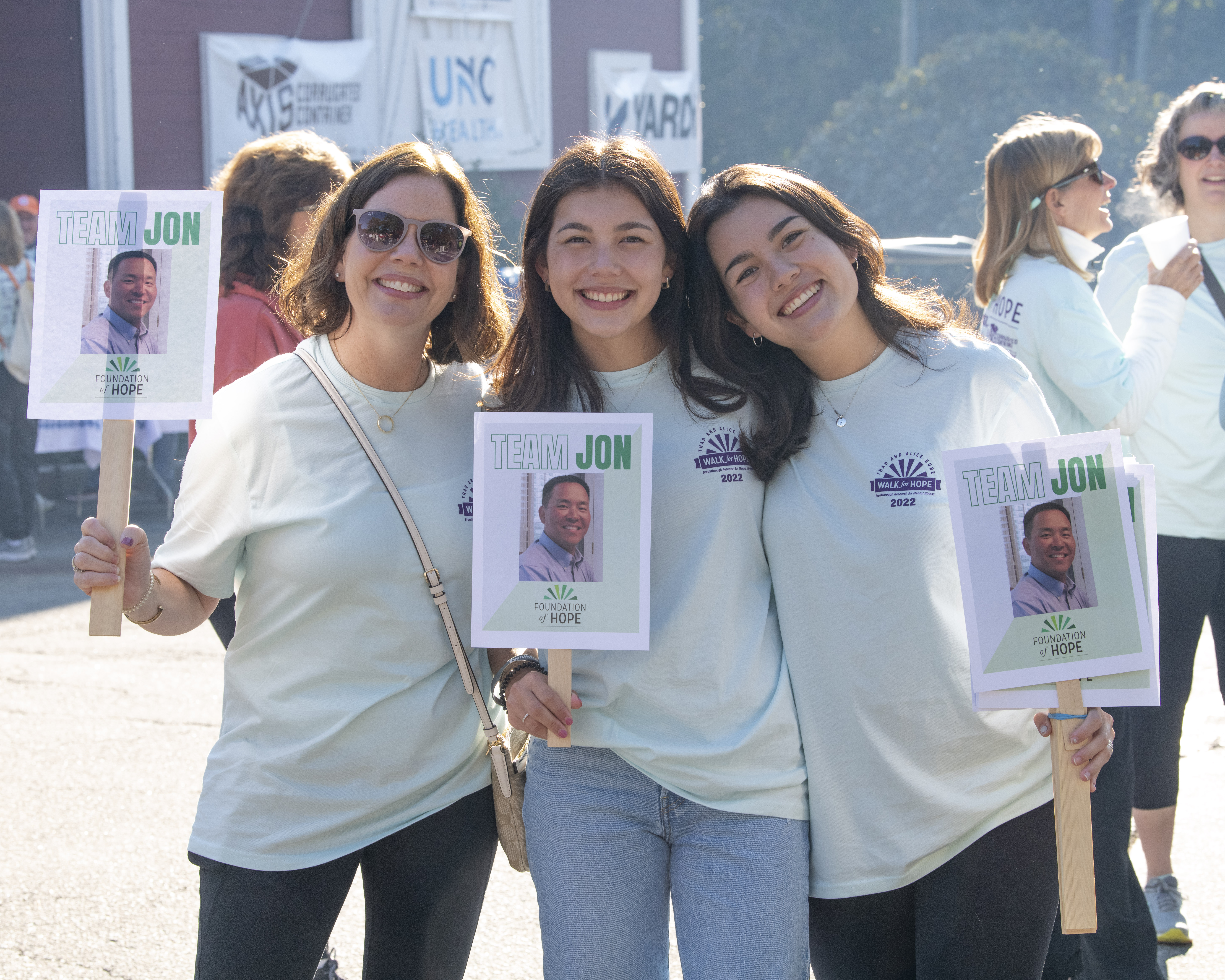 TEAM JON honors the life and legacy of Jon Williams. Jon was an incredible family man, friend, and physician. September 1 will mark 3 years since Jon lost his battle with depression, and we lost a loving husband and father. We miss Jon every day - his compassion, humor, contagious laugh, intelligence, and megawatt smile. Please walk with Team Jon on October 8 in the Walk for Hope, or make a donation. Together we can break stigmas, encourage dialogue, fund research, and bring awareness to difficult topics like depression and suicide. All earnings fund UNC grants for mental health research. We were humbled by last year's support for Team Jon, and we're eager to make an impact again this year.
With love and gratitude,
Carrie, Sarah, & Lily Williams
Check out Lily's Changemaker story here:
https://walkforhope.com/changemakers-lily/
Jon's obituary:
https://www.cremnc.com/obituary/jonathan-williams
NYT opinion pieces that helped us understand depression better:
"When Depression is Like a Cancer"
"How Do You Serve a Friend in Despair?"
UNC Remembers Dr. Jon Williams:
https://news.unchealthcare.org/2020/09/remembering-dr-jon-williams/
If you are experiencing dark or suicidal thoughts, please call or text 988 for 24-hour-a-day support.
Why am I fundraising?
For a split second every day when I wake up, I feel a moment of peace and wholeness. And then it is replaced by the heartbreaking reality that my husband and best friend is gone. That my daughters' dad is gone. The permanence of it is staggering, even as we approach the three-year mark of our loss. It's like a weight on my chest that requires conscious, steady breaths to overcome. I am getting through each day, as are my girls, Sarah and Lily (now 20 & 16). We have joy, laughter, and adventure in our lives. I think Jon would be proud of the way we're living, but it is hard every day. We love to talk about Jon, look at photos, retell stories, and linger over shared memories. We love to hear your anecdotes and memories, too. Jon struggled with depression for years. During that time, he also lived a full and happy life. He loved his family, his friends, and his colleagues. Our family of four would've said our life was pretty darn perfect - full of laughter and love. Jon sought help from doctors, took medication, spent time in the hospital, leaned into his faith, listened to meditations, and read everything he could get his hands on related to depression. He questioned why someone with so many blessings in life could feel so much pain. We participate in the Walk for Hope each year to raise money for mental health research so that other families can be spared the heartache we have experienced. It is our hope that research can help us better understand and treat depression so that others can find the successful treatments that eluded Jon in the end. We are deeply grateful for your support of our family and this mission that is close to our hearts. We'd love to have you join us in the 10/8 walk or make a donation to Team Jon.
Thanks,
Carrie Williams
Donation Form